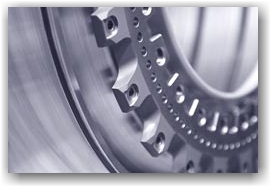 Hallmark Metals provides custom-built precision components, fabricated to your specifications. We have been manufacturing precision metal & sheet metal components for customers throughout the United States since 1959. We provide precision components for a variety of industries, including the Aerospace, Automotive, Computer, Defense, Electronics, Marine, Medical, Space, and Trucking Industries. From your engineered drawings to the final delivery of your custom component, Hallmark Metals is here to help you with your custom manufacturing needs.
Manufacturing A Full Spectrum Of Precision Components
We are a full service precision machine shop and can manufacturer precision components using a variety of processes including Stamping, Laser Cutting, CNC Machining, CNC Turning, and CNC Punching. We specialize in CNC precision components for use including enclosures, assemblies, automotive parts and aerospace components. Some precision components we provide are:
Brass precision components
Sheet metal components
Forged components
Miniature components
ISO 9001:2008 Certified
Hallmark Metals is an ISO 9001:2008 certified business which specializes in creating precision components. Our stamping, machining, milling and laser cutting equipment are state-of-the-art, enabling us to produce highly complex components using our fully automated lights out capacity to reduce production cost and improve lead time.
A Full Service Precision Component Production Firm
We offer in-process engineering and support as well as finishing services. We produce precision components in a wide variety of materials with various finishing options.
Common Materials We Work On
---
Aluminum
Brass
Copper
CRS (Cold Rolled Steel)
Co-Netic Metals (Mu Metal)
G10 Glass
Plastics
Stainless Steel
Titanium
Other: If you have something not listed, please ask our sales team and they will advise
Processing Options
---
Anodizing
Cad plating
Chem plating
Dip Brazing
Engrave and Fill
Hardware
Heat Treating
Helium Leak Test
Marking
Masking
Military Painting specs – various types
Military Plating specs – various types
Penetrant Inspection
Powder Coating
Silkscreening
Other: if you have something not listed, please ask our sales team and they will advise
Precision Sheet Metal Components Conveniently Located In Southern California
Our complete sheet metal component facility is located in Glendora, California, just minutes from downtown Los Angeles and a short drive from cities such as Pasadena, Burbank, Long Beach, Anaheim, Santa Ana, Irvine, Costa Mesa, and Santa Monica. We also offer precision metal component production for other south California cities such as San Diego, San Bernardino and Santa Barbara and throughout North America.
Call Hallmark Metals and discover why more than 200 industrial and manufacturing firms use Hallmark Metals for their precision component production needs.