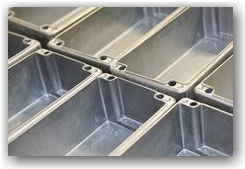 Hallmark Metals manufactures custom Sheet Metal Bracket Assemblies, Enclosures, Panels, Brackets, Housings, Cabinets, and Rack Mount Enclosures for electrical and electronic uses. We produce high quality electrical enclosures that meet the demanding needs of heavy industrial, military and utility applications. Our customers are traditionally in the Aerospace, Automotive, Computer, Defense, Electronics, Marine, Medical, Space, and Trucking Industries. Our in-house design and engineering team offer quick turnaround, flexibility of design, optimal quality control, and efficiency to deliver the product on time and on budget.
Custom Metal Enclosures
Our experienced staff understands the entire design process, allowing them to assist in changes that can improve functionality and structural integrity… and at a lower cost.
Here is a partial list of the custom metal enclosures we manufacture:
Custom Aluminum Enclosure
Custom Card Cage
Custom Computer Enclosures
Electronic Enclosures
Electrical Enclosures
Sheet Metal Brackets & Bracket Assemblies
Panel and Panel Assemblies
Rack Mount Enclosures
Sheet Metal Cabinets
Sheet Metal Chassis
Sheet Metal Enclosures
Sheet Metal Housings
ISO 9001:2008 Certified
Hallmark Metals is an ISO 9001:2008 certified business which specializes in creating custom metal enclosures. Our stamping, machining, milling and laser cutting equipment are state-of-the-art, enabling us to produce highly complex enclosures using our fully automated lights out capacity to reduce production cost and improve lead time.
Custom Metal Enclosures Produced In  A Variety Of Materials
We build custom metal enclosures in a wide variety of materials with various finishing options.
Common Materials We Work On
---
Aluminum
Brass
Copper
CRS (Cold Rolled Steel)
Co-Netic Metals (Mu Metal)
G10 Glass
Plastics
Stainless Steel
Titanium
Other: If you have something not listed, please ask our sales team and they will advise
Processing Options
---
Anodizing
Cad plating
Chem plating
Dip Brazing
Engrave and Fill
Hardware
Heat Treating
Helium Leak Test
Marking
Masking
Military Painting specs – various types
Military Plating specs – various types
Penetrant Inspection
Powder Coating
Silkscreening
Other: if you have something not listed, please ask our sales team and they will advise
Precision Sheet Metal Enclosures Conveniently Located In Southern California
Our complete sheet metal enclosure production facility is in Glendora, California, just minutes from downtown Los Angeles and a short drive from cities such as Pasadena, Burbank, Long Beach, Anaheim, Santa Ana, Irvine, Costa Mesa, and Santa Monica. We also offer precision custom metal enclosures for other south California cities such as San Diego, San Bernardino and Santa Barbara and throughout North America.
Call Hallmark Metals and discover why more than 200 industrial and manufacturing firms use Hallmark Metals for their precision sheet metal enclosure needs.
Photo Gallery (Click Center Photo To Enlarge)

Loading Images